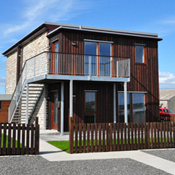 Flats at Hatston
Kirkwall, Orkney
This building, of Orkney stone, was used for testing aircraft engines at the former Hatston airfield. It has been converted into a pair of two-bedroomed flats.
The Hatston airfield was the first purpose-built Royal Naval Air Station in Great Britain. Work began in February 1939 and it was commissioned as HMS Sparrowhawk on 2 October that year. It was one of the first airfields in Britain to have hard runways and briefly served as the civil airport after the War.
Hatston was the base for 72 Squadrons through the war, although most of them were acting in support of the fleet at Scapa Flow. Carrier aircraft were disembarked here and support operations such as the towing of gunnery targets were carried out from here. Seaplanes were also based at the nearby slipway. Skuas from Hatston became the first aircraft ever to sink a major warship when they attacked the Konigsberg in Bergen harbour on 10 April 1940. Later the same day Gladiators from the station fought off 60 enemy bombers in the concluding engagement of the 'Battle of Orkney': the last major air attack on Scapa Flow. In May 1941 it was a Maryland bomber from Hatston that confirmed that the Bismarck had sailed from a fjord just south of Bergen.
This rectangular flat-roofed building was used for testing aircraft engines. Large timber doors at either end would have been opened up to allow a throughflow of air over the engines. Like a surprising number of wartime structures in Orkney the walls were built of stone with a flat concrete roof.
The building has been subdivided to form a pair of two-bedroom flats. A cedar-clad extension has been added to the south east with an galvanised steel external access stair and balcony. Sliding patio doors give views towards Kirkwall and the North Isles. Smaller bedroom windows are set into a cedar screen at the other end of the building. The stonework was repointed using lime mortar