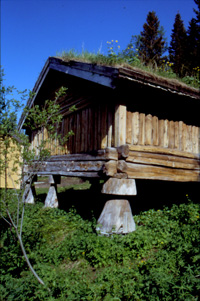 The architecture of Norway has a long but slender thread of history. For long periods the country had a relatively poor and rural economy so that few grand buildings were erected and in a country blessed with a plentiful supply of timber, relatively few older buildings have survived fire and decay.
Timber is enormously important in all Norwegian Buildings, from simple log built early storehouses and farmhouses, typically on stone bases with a timber structure and a turf or slate roof, through to the elegant weatherboarded houses of Old Stavanger. The long timber tenements, gable to the sea with closes between, in Bergen's Bryggen have strong parallels with the traditional centres of Kirkwall and Stromness.
Stone is relatively little used, although the cathedrals at Stavanger and at Trondheim are fine examples: the latter sharing many characteristics with St. Magnus Cathedral in Kirkwall. Slate is quarried for roofing, sometimes in large slabs as in Orkney. Distinctive green Norwegian slate can be seen on a number of buildings in Orkney, including the Arts Theatre.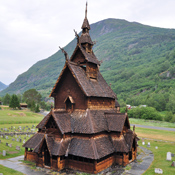 The best known and most unique Norwegian buildings are the stave churches (Borgund, left) of which some 29 survive, from the oldest at Urnes to the largest at Heddal. These are built on a series of huge timber masts and decorated inside and out with carving and paintwork which can be almost eastern in character.
By the end of the nineteenth century, more architecturally designed buildings were beginning to be built. Swiss chalet style became popular in houses and as the modern Norwegian nation was born there was much interest in Jugendstijl: a stripped down classicism with Art Nouveau influences: for example in the rebuilding of Ålesund.
Through the twentieth century Norwegian Architecture has been an important part of the modern Scandinavian tradition. The use of natural materials and unadorned high quality concrete is widespread. Above all simplicity and quality is prized and natural light, which is at a premium in northern latitudes, is skilfully manipulated.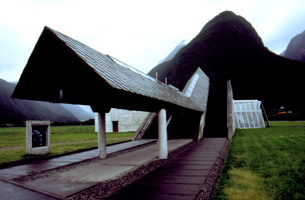 Amongst Norway's architectural stars is Sverre Fehn, who first came to public notice in 1949 with a competition winning for a Craft museum near Lillehammer. Among his best known buildings is the Jostedal Glacier Museum at Fjaerland on Sogn Fjord (left).
Particularly interesting buildings include the Troldsalen Concert Hall at Grieg's home outside Bergen by Peter Helland Hansen & Sverre Lied where a large modern building is fitted into an idyllic and historic location without overwhelming it. The hut where Grieg wrote his music and the view he looked out on form the backdrop to the stage.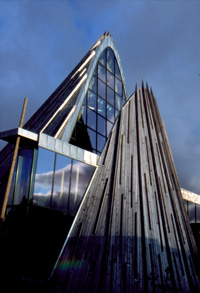 The North Sea Traffic Museum which commemorates the Shetland Bus and the tragic massacre at Televåg on Soutra is a marvellous and uncompromisingly modern building by Paal Kahrs, perched on a clifftop overlooking the rebuilt village.
One of the most striking buildings of recent years is the Sami parliament at Karasjok in the far north of Norway by Stein Halvorson & Christian Sundby. (right) Its debating chamber is an abstract timber version of a Lavvo: the traditional tent used by the nomadic Sami people.
The spectacular new Opera House in Oslo (below) is by Norwegian firm Snøhetta.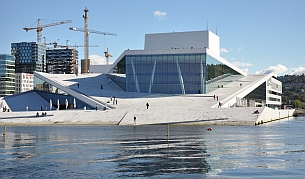 © Leslie Burgher